Two Paws Temporary Tattoo
Small #201, Size = 1.5" x 1.5"
45¢ each - To ORDER, click on the "Up" button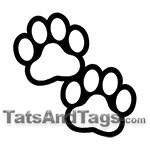 We can customize this design as well as any of our in-stock designs to your school colors, see examples below. Also note we have this design available for purchase as a pendant. We can make custom pendants for you as well.