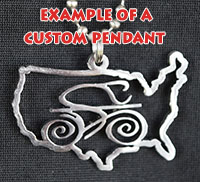 Bicycle Jewelry - Pendants include necklace - also Swim, Bike, Run (Triathlon pendants)
Bicycle necklaces make great gifts for all bike enthusiasts. Don't forget to check out the bicycle earrings towards the bottom of the page.
Now Available - Custom pendants, minimum order 100 units, please call to discuss for an estimate as size, intricacy of design, etc will be needed.

Ordering 50 or more in-stock jewelry pieces - call for pricing.

All pendants come with a stainless steel beaded chain necklace, you may upgrade to a wheat chain for $5 - see bottom of page
actual size not shown
The thickness of these pendants are 2 mm.
The material is 316L Stainless Steel that will never fade, tarnish, discolor, or rust, even in the shower.
Many of my customers wear my designs 24/7.
NEW DESIGN - American Flag Pendant
The "white areas" of the flag, i.e. white stars and stripes have been cut away all the way through the metal. This is difficult to illustrate by photos. Thus, the "red and blue" areas of the flag are represented by the Stainless Steel, and the "white' areas of the flag, or "negative space is where all Steel has been cut away. Thus if you hold it up to a light, the normal "white" stars and stripes are see through.
American Flag
30 mm x 15.5 mm OR 32 mm x 16.5 mm
BP#57 - $15.00

Flag Etiquette: when the flag is displayed vertically, the "Union" area of the Flag should be to the observer's upper left. The "Union" refers to the blue area with the white stars.
Infinity Road Bike in Circle Chain- 28 mm x 28 mm
BP#57 - $14.95

Infinity Mountain Bike in Chain - 28 mm x 28 mm
BP#58 - $14.95

F Cancer Pendant in Bike Chain Circle- 28 mm x 28 mm
BP#59 - $14.95

Road Bike in Circle Chain- 28 mm x 28 mm
BP#54 - $14.95

Mountain Bike in Chain - 28 mm x 28 mm
BP#55 - $14.95

Cross Pendant in Bike Chain Circle- 28 mm x 28 mm
BP#56 - $14.95

BMX Bike in Circle Chain - 28 mm x 28 mm
BP#51 - $14.95

5 Star Pendant 28 mm x 28 mm
BP#52 - $14.95


BMX Infinity Bike
BP#53 - $14.95


BIKE in Circle Chain - 28 mm x 28 mm
BP#1 - $14.95

Road Bike in Circle Chain - 28 mm x 28 mm
BP#2- $14.95

Peace in Circle Chain Bike Wheel - 28 mm x 28 mm
BP#3 - $14.95

Kokopelli in Circle Chain - 28 mm x 28 mm
BP#4 - $14.95

Circle Chain - 28 mm x 28 mm
BP#5 - $14.95

Heart Shaped Bike Wheel - 28 mm x 28 mm
BP#6 - $14.95

Negative Space Bike - 38 mm x 24 mm
BP#7 - $14.95

Bike Overhead - 32 mm x 32 mm
BP#8 - $14.95

Bike Wheel Pendant - 30 mm x 30 mm
BP#9 - $14.95

Bicycle Pendant - 37 mm x 22 mm


BP#

10 - $14.95

Bike Rider Pendant - 33 mm x 25 mm
BP#11 - $14.95

Female Biker in Chain Ring - 33 mm x 33 mm
BP#12 - $14.95


Polished Tandem Pendant - 42 mm x 22 mm
BP#13 - $14.95


Matte Tandem Pendant - 35 mm x 20 mm
BP#14- $14.95


Compass Nautical Star in a Gear - 37 mm x 37 mm
BP#15 - $14.95

Forward Road Bike - 19 mm x 38 mm
BP#16 - $14.95

Bike Chain Link - 12 mm x 30 mm
BP#17 - $14.95

Kokopelli on Forward Bike - 28 mm x 38 mm
BP#18 - $14.95

BMX in Bike Chain - 28 mm x 28 mm
BP#19 - $14.95

BMX Bicycle in a Gear - 30 mm x 30 mm
BP#20 - $14.95

Forward BMX Pendant - 30 mm x 38 mm
BP# 21 - $14.95

Heart Bike Chain - 28 mm x 28 mm
BP#22 - $14.95

Chain Wheel with Heart - 32 mm x 32 mm
BP#23 - $14.95

Love Bike - 22 mm x 36 mm
BP#24 - $14.95

Bicyclist Heartbeat - 50.8 mm x 22.5 mm
BP#25 - $14.95

Infinity Heart - 30 mm x 30 mm
BP#26 - $14.95

Chainring Heart Pendant - 30 mm x 29.6 mm
BP#27 - $14.95


Infinity Bike - 35 mm x 23 mm
BP#28 - $14.95

Quad Bike Pendant - 30 mm x 30 mm
BP#29 - $14.95


Tri Bike Pendant - 35 mm x 35 mm
BP#30 - $14.95




Tribal Bike Pendant - 35 mm x 22 mm
BP#31 - $14.95

Chain Wheel (Matte) -  30 mm x 30 mm
BP#32 - $14.95


Chain Wheel (Polished) - 30 mm x 30 mm
BP#33

Peace Cog Pendant - 30 mm x 30 mm
BP#34 - $14.95

Victory Bike Pendant - 30 mm x 35 mm
BP#35 - $14.95


Kokopelli Bike Pendant - 25 mm x 30 mm
BP#36 - $14.95
(also see matching earrings below)


Victory Bike in Iowa - 37 mm x 28 mm
BP#37 - $14.95


Iowa Gear - 30 mm x 30 mm
BP#38 - $14.95

High Trestle Bridge with Bike - 40 mm x 40 mm
BP#39 - $15.00

Tribal Bicycle in Iowa - 37 mm x 27 mm
BP#40 - $14.95

Kokopelli Bicycle Pendant - 37 mm x 27 mm
BP#41 - $14.95


Iowa Bicycle Pendant - 37 mm x 27 mm
BP#42 - $14.95

Triathlon Pendant 2 - 28 mm x 23 mm
BP#43 - $14.95



Swim Bike Run Pendant 18 mm x 34 mm
BP#44 - $14.95




Kokopelli Runner - 24 mm x 35 mm
BP#45 - $14.95

Texas State Bike - 40 mm x 39 mm
BP# 46 - $14.95

3d Bike Helmet - 30 mm x 23 mm
BP#47 - $14.95

Star, Infinity Bike in Gear - 34 mm x 34 mm
BP#48 - $14.95




Wheat Chain Necklace
BP#49 - $5.00